Mobile Barbeque Catering Toronto
Are you on the hunt for the best mobile barbeque catering in Toronto for your upcoming event? Look no further than The BBQ Gourmet. This premier catering service offers a wide variety of delicious BBQ options that will have your guests coming back for more.
The BBQ Gourmet has made a name for itself as the go-to mobile barbeque catering service in Toronto. With their unique and flavourful menu, they have carved out a special place in the hearts of foodies across the city. Whether you're hosting a backyard party, a corporate event, or a wedding, The BBQ Gourmet ensures a memorable dining experience for all.
When it comes to mobile barbeque catering Toronto is a city that demands only the best. The BBQ Gourmet meets this demand by offering a menu filled with barbeque favourites like succulent ribs, tender brisket, and mouthwatering chicken, all slow-cooked to perfection. They also provide a range of sides, from classic coleslaw and cornbread to gourmet options like quinoa salad and roasted vegetables.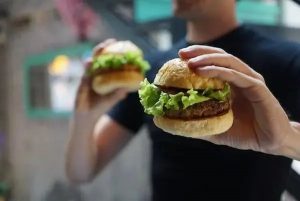 The BBQ Gourmet
One of the features that sets The BBQ Gourmet apart from other Toronto catering services is their commitment to quality. They believe that good food comes from good ingredients, and so they source only the freshest and finest produce and meats. Each dish is prepared with care, ensuring that every bite is bursting with flavour.
But The BBQ Gourmet is more than just a catering company. They are also a team of event professionals who understand the importance of exceptional service. From the moment you reach out to them, they work closely with you to understand your needs and expectations. They strive to make the planning process as smooth as possible, providing expert advice and support along the way.
On the day of the event, The BBQ Gourmet team arrives on time, sets up quickly, and serves your guests with a smile. They take care of all the details, allowing you to relax and enjoy the occasion. And when the event is over, they clean up swiftly and efficiently, leaving your venue spotless.
BBQ Catering Services
Choosing a mobile BBQ catering service for your event in Toronto offers several benefits. Firstly, it allows for a unique and interactive dining experience. Your guests can watch as their food is prepared right before their eyes, adding a sense of excitement and anticipation to the meal.
Additionally, mobile catering is a flexible and convenient option. The BBQ Gourmet can cater to any location, whether it's a park, a backyard, or a corporate venue. This means you can host your event wherever you like, without worrying about the logistics of food preparation and service.
When it comes to mobile barbeque catering, Toronto-based The BBQ Gourmet has earned a reputation for excellence. Their passion for food, commitment to quality, and dedication to customer service make them the perfect choice for any event. Whether you're planning a small gathering or a large celebration, trust The BBQ Gourmet to make your event a success.
Event Catering
In conclusion, The BBQ Gourmet is more than just a catering service. They are a partner in your event planning, dedicated to making your occasion memorable and enjoyable. With their delectable menu, professional service, and commitment to excellence, they are the top choice for mobile barbeque catering in Toronto.
So why wait? Experience the taste and convenience of the best BBQ catering services today. Contact The BBQ Gourmet and let them transform your event with their mouthwatering barbeque offerings. Experience the expertise of the top mobile barbeque catering Toronto has to offer.