Best Corporate Caterers in Toronto
If you're planning a corporate event in Toronto, your choice of caterer is crucial. The food and service can make or break the experience for your guests. Enter The BBQ Gourmet, one of the best corporate caterers in Toronto. With exceptional services, mouth-watering menus, and a reputation for quality, The BBQ Gourmet is the go-to choice for many businesses and event planners.
The BBQ Gourmet is not just another name in the world of professional catering in Toronto. They have built a reputation for delivering high-quality, delicious BBQ catering services that are second to none. Whether it's a small company get-together or a large corporate event, The BBQ Gourmet offers a range of flexible catering options to suit any size or type of occasion.
One of the things that make The BBQ Gourmet standout among other corporate caterers is their commitment to quality. They source their ingredients from the best local suppliers, ensuring the freshness and quality of every dish they serve. Their professional chefs are skilled at creating innovative, flavourful dishes that are sure to impress your guests.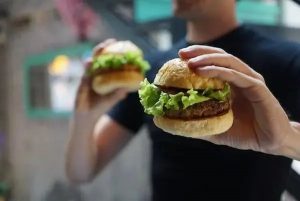 The BBQ Gourmet
The BBQ Gourmet is known for its gourmet catering services. Their menu features a remarkable selection of BBQ classics, gourmet dishes, and innovative culinary creations. Whether you prefer traditional BBQ favourites or want to try something a bit different, there's something to please every palate. Their menu ranges from succulent smoked meats to delectable sides and desserts, all prepared with the utmost care and attention to detail.
One thing that sets The BBQ Gourmet apart from other catering services is their dedication to exceptional service. Their catering team is professional, efficient, and dedicated to making your event a success. From the initial planning stages to the final clean-up, they handle every detail with care, ensuring that your event runs smoothly. Their commitment to customer satisfaction has earned them a reputation as one of the best corporate caterers in Toronto.
Corporate Catering Services
The BBQ Gourmet also offers custom catering packages to meet the unique needs of your event. They work closely with you to create a menu that meets your specific dietary requirements and preferences. Their goal is to provide a catering experience that is as unique as your event. Whether you're planning a formal dinner, a casual luncheon, or a festive holiday party, they can help you create a memorable event that your guests will be raving about for years to come.
The BBQ Gourmet's dedication to quality and service has earned them numerous accolades and a loyal client base. Many companies in Toronto rely on them for their corporate events, knowing that they can expect delicious food, professional service, and a stress-free catering experience. Whether it's a small, intimate gathering or a large corporate function, The BBQ Gourmet brings their A-game every time.
Professional Catering in Toronto
In conclusion, The BBQ Gourmet holds a prominent position among the best corporate caterers in Toronto for good reason. Their dedication to providing top-notch gourmet catering services, their innovative, mouth-watering menus, and their commitment to customer service are what sets them apart. If you're planning a corporate event in Toronto, consider The BBQ Gourmet. They're more than just a caterer – they're a partner who is committed to making your event a success.
With The BBQ Gourmet, you can sit back, relax, and enjoy your event, knowing that the food and service are in capable hands. Trust your corporate catering to The BBQ Gourmet, and let them show you why they are recognized as one of the best in Toronto.
That's what makes The BBQ Gourmet one of the best corporate caterers in Toronto – their commitment to delivering nothing but the best. Because when it comes to corporate catering, good just isn't good enough – you deserve the best. Choose The BBQ Gourmet for your next corporate event, and experience the difference for yourself.