Barbeque Event Catering Toronto
If you are exploring options for Barbeque Event Catering in Toronto, look no further than The BBQ Gourmet. Offering a diverse selection of tantalizing barbeque dishes, The BBQ Gourmet should be your first choice when it comes to BBQ catering services. But why is that? Here's everything you need to know about the best BBQ event catering in Toronto.
The BBQ Gourmet has been a staple in the Toronto event catering scene for years, consistently raising the bar with its top-notch services and mouthwatering cuisine. The caterer has built a reputation for turning any event into a gastronomical adventure marked by scrumptious barbeque delicacies. Whether it's a corporate event, a social gathering, or a wedding, The BBQ Gourmet ensures that your guests are treated to the best BBQ experience in town.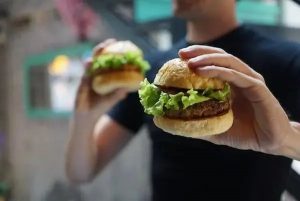 The BBQ Gourmet
One of the unique features of The BBQ Gourmet is their commitment to quality. They go the extra mile to source local and fresh ingredients, ensuring that every bite is packed with flavor. The magic lies in their time-tested BBQ techniques and secret recipes, which gives them an edge over other BBQ catering services in Toronto.
The BBQ Gourmet offers a wide variety of BBQ dishes to cater to a diverse palate. From smoky ribs to juicy steaks, grilled vegetables to flavorful chicken, their menu is a barbeque lover's paradise. The BBQ Gourmet is a craftsman of taste, offering a masterful blend of flavors that will leave your guests craving for more.
But the delightful menu is just part of the attraction. The BBQ Gourmet also takes pride in its exceptional service. They take the stress out of planning your event by handling everything from setup to clean-up. Their professional staff is always on hand to ensure your event goes smoothly and your guests are well taken care of.
BBQ Catering Services
The BBQ Gourmet's reputation as the top choice for barbeque event catering in Toronto has been earned through years of dedication and hard work. Their commitment to ensuring the satisfaction of their clients is unparalleled. They understand the importance of your event, and they go the extra mile to make sure it is a resounding success.
Another advantage of choosing The BBQ Gourmet for your event catering in Toronto is their flexibility. They understand that every event is unique, and they tailor their services to meet your specific needs. Whether it's a small get-together or a large corporate event, The BBQ Gourmet has the expertise and resources to make your event a success.
In conclusion, if you're looking for the best BBQ event catering in Toronto, The BBQ Gourmet should be your first choice. With their delicious food, exceptional service, and commitment to customer satisfaction, they offer the perfect solution for all your event catering needs.
Event Catering in Toronto
In the world of BBQ catering services, The BBQ Gourmet stands out as a beacon of excellence. They have mastered the art and science of BBQ, and they serve it up with a level of professionalism and hospitality that is hard to find. So, when you're planning your next event, give your guests a taste of the best with The BBQ Gourmet. You won't be disappointed!
So why wait? Start planning your event with the best barbecue event catering in Toronto – The BBQ Gourmet. They are committed to making your event an unforgettable experience with their sumptuous barbecue offerings. Contact them today to discuss your event and see how they can make it a BBQ feast to remember!