Professional Food Truck Catering
In the realm of professional food truck catering, BBQ Gourmet stands out high above the crowd, cooking up a storm for every event they attend. This innovative service combines the traditional allure of barbecue cooking with the modern appeal of food trucks. It's a unique gastronomic experience that's intensely gratifying, making events both memorable and enjoyable.
There's been a significant shift in the culinary landscape over the past few years, with gourmet food trucks leading the charge. They are no longer just the last resort for late-night eats, but have evolved into a popular choice for providing top-tier, professional catering services at an array of events.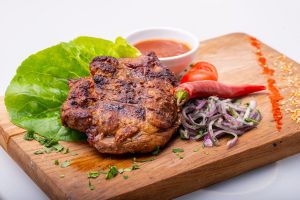 The BBQ Gourmet
One of the most popular variants in this trend is the BBQ food truck. Infusing a classic cooking style with a unique delivery mode, the BBQ Gourmet food truck brings the mouthwatering allure of barbecue to your doorstep. This mobile BBQ catering service is not limited to a specific location and can be an excellent choice for any event, be it a corporate function, wedding, birthday party, or any other celebration.
BBQ Gourmet takes pride in offering high-quality BBQ catering services. Their professional food truck catering team specializes in barbecue and is adept at working magic with meat and fire. The smoky aroma enveloping the vicinity as the BBQ Gourmet food truck pulls on-site sets the stage for an exciting culinary journey, filled with robust flavors and delightful textures.
The menu, a testament to BBQ Gourmet's commitment to quality and taste, showcases a variety of slow-cooked, skillfully seasoned, and expertly grilled dishes. From succulent pork ribs, tender brisket, juicy chicken, to sizzling sausages, there's something for every meat lover. However, their offerings are not limited to carnivorous delights alone; BBQ Gourmet also provides an array of vegetarian options and side dishes, ensuring a comprehensive, inclusive menu that caters to diverse dietary preferences.
Food Truck Catering Services
Choosing BBQ Gourmet means more than just good food; it also means excellent service. Professional food truck catering is about providing a complete experience that includes not only flavorsome food but also seamless service. The crew at BBQ Gourmet is trained to deliver efficient, friendly service under any circumstances, ensuring that every guest is well-catered to and the event unfolds smoothly.
Moreover, the BBQ Gourmet food truck adds an element of visual appeal and entertainment to your event. Watching the chefs in action, tending to the smoking grills, and creating culinary masterpieces right before your eyes, adds a unique, interactive element to the dining experience. It's not just about tasting the food, but also about witnessing its transformation from raw ingredients to a delicious meal.
Mobile BBQ Catering
Professional food truck catering is a versatile choice, not just in terms of menu options but also in terms of adaptability to various event formats. Whether it's a small backyard gathering or a large-scale corporate event, BBQ Gourmet can tailor their service to suit the occasion. They can serve food buffet-style for a casual, laid-back vibe, or provide individual servings for a more formal setting.
In conclusion, the BBQ Gourmet professional food truck catering service provides a novel and exciting catering solution that guarantees to make any event unforgettable. With its delectable barbecue offerings, professional service, and flexible options, BBQ Gourmet is a reliable choice for those looking to spice up their event with the unique appeal of food truck catering. Whether you're planning a family reunion, an anniversary celebration, or a company event, BBQ Gourmet promises to deliver an unforgettable culinary experience.