High-End Food Truck Catering
The culinary world is continuously evolving, and one trend that has been gaining massive popularity in recent years is high-end food truck catering. From weddings to corporate events, food trucks are providing a unique dining experience while serving delicious gourmet meals. In particular, The BBQ Gourmet food truck has been making waves in the industry, offering a high-end culinary experience that goes beyond traditional barbecue staples.
High-End Food Truck Catering: Elevating Street Food
The food truck trend started as a way to bring street food to the masses, but it has evolved into a gourmet food experience. High-end food truck catering combines the best of both worlds – the convenience and casual atmosphere of street food with the sophistication and high-quality ingredients of fine dining.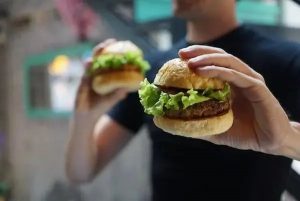 The BBQ Gourmet
At the heart of this trend is The BBQ Gourmet, a high-end food truck that specializes in barbecue. The BBQ Gourmet takes the traditional barbecue experience to a new level, offering a variety of grilled items cooked to perfection on a mobile platform.
What sets The BBQ Gourmet apart is their passion for barbecue and commitment to quality. Their menu is carefully curated to include a range of options, from classic barbecue favorites such as brisket and ribs to gourmet creations like smoked salmon and grilled vegetables.
Moreover, The BBQ Gourmet uses only the best ingredients. Their meats are sourced from trusted local suppliers, ensuring that everything they serve is fresh and of the highest quality. They also offer a selection of homemade sauces and sides, each with a unique flair that complements the barbecue perfectly.
BBQ food truck business
When it comes to event catering, The BBQ Gourmet is a standout choice. Whether it's a wedding, a corporate event, or a family gathering, their food truck brings a unique and exciting element to any occasion.
Their team works closely with event organizers to create a custom menu that fits the event's theme and the guests' dietary preferences. They can accommodate a range of dietary needs, including gluten-free, vegan, and vegetarian options.
Food truck wedding catering
The success of The BBQ Gourmet is a testament to the growing popularity of the BBQ food truck business. More and more entrepreneurs are seeing the potential in this industry, and for a good reason. Operating a BBQ food truck allows for flexibility and creativity, making it an exciting venture for those with a passion for food and hospitality.
But it's not just about the food. The BBQ food truck business also offers the chance to connect with the community, serve a diverse range of customers, and bring joy and delicious food to people's lives.
In conclusion, high-end food truck catering offers an exciting and unique dining experience. With businesses like The BBQ Gourmet leading the way, this trend is set to continue growing, bringing gourmet barbecue to food lovers everywhere. Whether you're planning an event or looking to step into the food truck industry, consider the BBQ food truck catering for a taste of something truly exceptional.