Food Trucks For Company Events
The food truck industry is booming with a variety of innovative culinary concepts. Amongst the top related searches for food trucks at company events is The BBQ Gourmet. Renowned for its finger-licking barbeque dishes, The BBQ Gourmet has quickly become a popular choice for corporate catering. If you're an event planner or a company looking for unique and fun catering options, then a food truck like The BBQ Gourmet may be your perfect choice.
The BBQ Gourmet specialises in delivering a mobile catering experience like no other. Their professionally designed food truck brings a fusion of traditional and contemporary barbeque flavours right to your outdoor company events. With a wide range of grilled dishes on the menu, including smoky ribs, juicy burgers, and tender pulled pork, they cater to the varied palates of your team members.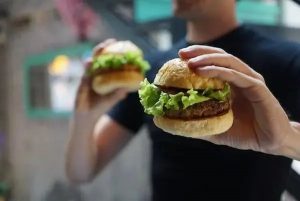 The BBQ Gourmet
The charm of The BBQ Gourmet food truck lies in its ability to transform your corporate event into something more relaxed and informal. Traditional catering services often limit the interaction between the catering staff and attendees. However, with food trucks, such as The BBQ Gourmet, your employees can engage in a more interactive and enjoyable dining experience, enhancing the overall atmosphere of the event.
Another reason why food trucks are becoming popular at company events is their versatility. Regardless of the size of your event, whether it's a small team getaway or a large company festival, The BBQ Gourmet can accommodate your needs. They offer various packages tailored to your event's size, ensuring that everyone's stomach is satisfied without breaking your budget.
Moreover, The BBQ Gourmet takes pride in providing fresh, high-quality food. They use locally sourced ingredients to create their mouth-watering barbeque dishes. This commitment to quality and freshness contributes to their growing reputation in the corporate catering world.
Mobile Catering
As for the health-conscious members of your team, The BBQ Gourmet has got them covered too. With a menu featuring a range of salads, grilled vegetables, and lean meat options, they cater to all dietary preferences and restrictions. This ensures that everyone at your event can partake in the deliciousness, without compromising their diet or health.
Furthermore, hosting a food truck at your company event reduces the need for setup and cleanup. The BBQ Gourmet crew handles everything from setup to food service to clean up. This means you can focus entirely on the event itself, without worrying about the logistics of feeding your guests.
Outdoor Events
The BBQ Gourmet also adds an element of excitement to your event. Their vibrant food truck, complete with a live cooking station, captures the attention of attendees and adds a fun, visual element to the occasion. This unique aspect sets your company event apart from others, giving your employees an unforgettable experience.
In conclusion, food trucks such as The BBQ Gourmet, offer a fresh, unique, and enjoyable catering option for company events. They offer flexible packages that cater to different event sizes, high-quality fresh food that caters to different dietary needs, and a fun, interactive experience that leaves a lasting impression on your guests. So, the next time you're planning a corporate event, consider booking The BBQ Gourmet food truck and transform your regular company event into an exciting gastronomic adventure.