Food Truck Catering Packages
If you are planning an event and want to add a unique twist to your catering, then consider BBQ Gourmet Food Truck Catering Packages. These mobile catering services deliver delectable barbecue flavours straight from the grill to your venue, adding a dash of excitement and novelty to any gathering.
Gourmet food trucks have seen a surge in popularity over the years, and for a good reason. They offer a unique, casual dining experience combined with high-quality food that can be enjoyed by all. One of the most sought-after among these is the BBQ Gourmet food truck, renowned for its mouth-watering barbecue dishes that can brighten up any event.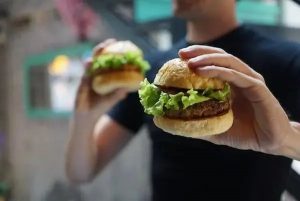 The BBQ Gourmet
Whether you're planning a corporate event, birthday party, wedding, or just a simple gathering with friends, BBQ Gourmet Food Truck Catering Packages offer a flexible and convenient solution for your catering needs. Read on to discover how these services can make your event a culinary hit.
Variety and Quality of Food
The allure of BBQ Gourmet lies in the variety and quality of food that they offer. From juicy, slow-cooked meats to zesty sauces and fresh salads, their menu is a comprehensive medley of barbecue favourites. What sets them apart is their use of high-quality ingredients combined with tried and tested BBQ techniques. Your guests will be raving about the food long after the event concludes, making it a memorable experience.
Flexibility and Convenience
One of the many advantages of food truck catering packages is the flexibility and convenience they offer. They can serve a large number of guests and yet are quite nimble, capable of setting up virtually anywhere. So, whether your event is at a park, a rooftop, or your backyard, BBQ Gourmet food truck can be there with their delicious offerings.
A Unique Dining Experience
Adding a food truck to your event isn't merely about the food; it's also about the unique dining experience it provides. The sight of a BBQ Gourmet food truck, with its tantalizing smoke wafting through the air, can create an atmosphere of anticipation and excitement among your guests. It brings an element of fun and novelty that traditional catering services often lack.
Cost-Effective
Choosing BBQ Gourmet Food Truck Catering Packages is also a cost-effective option. Given their operational efficiency, food trucks often provide excellent value for money without compromising on the quality of food. Furthermore, with a clear idea of how many guests you're feeding, you can easily control costs by selecting a package that suits your budget.
Customizable Menus
Most BBQ Gourmet Food Truck Catering Packages offer customizable menu options. So, if you have specific dietary requirements or preferences, you can tailor the menu to accommodate these. Whether you have vegetarian guests, require gluten-free options, or want to include a particular favourite, BBQ Gourmet can make it happen.
Unique Event Catering
In conclusion, BBQ Gourmet Food Truck Catering Packages offer a unique, flexible, and cost-effective solution for your catering needs. They provide a memorable dining experience that combines the casual, fun vibe of food trucks with the sophistication of gourmet cuisine. So, for your next event, consider these packages and let your guests savour the unforgettable taste of BBQ Gourmet.