Food Truck Caterers Near Me
Food trucks have revolutionized the culinary industry by providing mouth-watering meals on wheels. Among the most popular food truck options available, BBQ Gourmet stands out with its irresistible offer of barbecued delicacies. If you have been typing "Food Truck Caterers Near Me" into your search engine, then you're in for a treat as we introduce you to the BBQ Gourmet and why it could be the perfect choice for your next event.
Food truck catering has emerged as a trendy and innovative solution for various events, from intimate parties to large corporate functions. The convenience and flexibility of having a mobile kitchen that can cater to your event's needs, coupled with the opportunity to offer your guests an array of unique and flavorful dishes, makes food truck catering an increasingly popular choice.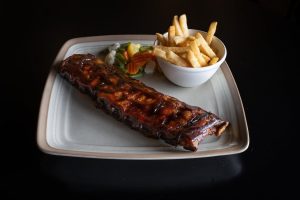 The BBQ Gourmet
Among the myriad of food trucks available, The BBQ Gourmet has carved out a niche with its unique and mouth-watering BBQ offerings. BBQ Gourmet doesn't just serve food; they provide an experience that stays with your taste buds and leaves a lasting impression. Whether it is a wedding, birthday, corporate event, or casual gathering, the BBQ Gourmet food truck never disappoints.
The BBQ Gourmet specializes in serving authentic and flavorful barbecued dishes prepared with love and passion. Their menu boasts a broad range of BBQ classics such as smoky ribs, pulled pork, brisket, gourmet sausages, and more – all cooked to perfection. The food is seasoned with homemade sauces and marinades, guaranteeing a burst of flavors with every bite.
The success of BBQ Gourmet is not just tied to their delectable dishes but also their professional and efficient service. Their staff is trained to handle events of all sizes and types seamlessly. They arrive on time, set up quickly, and ensure that your guests are served promptly and courteously. Moreover, they are more than happy to customize their menu to meet specific dietary needs or preferences, making sure everyone at your event gets to enjoy their BBQ.
Food Truck Catering
When you hire the BBQ Gourmet, you are not just getting food; you are getting an experience. The sight and smell of mouth-watering BBQ being cooked on-site add an exciting and interactive element to your event. Your guests get to watch their food being prepared, adding a touch of excitement and anticipation to the dining experience.
In addition to their impressive BBQ offerings, BBQ Gourmet also offers a range of complementary sides and desserts. From crispy coleslaw and baked beans to decadent brownies and fruit salads, they ensure that your guests have a balanced and satisfying meal.
Food truck caterers like The BBQ Gourmet have taken the food industry by storm because they offer a unique dining experience that traditional caterers cannot match. They provide the perfect balance between casual dining and gourmet food, ensuring that your event will be memorable and enjoyable for all your guests.
Gourmet BBQ Food Truck
So, the next time you find yourself searching for "Food Truck Caterers Near Me," consider the BBQ Gourmet. They offer a superior experience that combines convenience, professionalism, and, most importantly, delicious BBQ that your guests will rave about long after the event. Their commitment to quality and service is evident in every dish they serve and every event they cater.
The BBQ Gourmet is more than just a food truck; it is a culinary experience that takes your event to a whole new level. So elevate your next event with the mouth-watering goodness of BBQ Gourmet, and let your guests enjoy a food experience they will never forget.