Food Truck Caterer
In the ever-evolving culinary scene, food trucks have taken a prominent place, offering a diverse range of flavors to food enthusiasts around the world. Among these, one that has made a resounding impact is The BBQ Gourmet food truck caterer. Here, we unveil the mouth-watering delights offered on their caterer menu, guaranteed to transform any event into a gastronomic extravaganza.
The BBQ Gourmet food truck caterer menu is a brilliant blend of traditional flavors and innovative creations. As the name suggests, their expertise lies in BBQ. Their offerings are nothing less than a gourmet's delight, sticking true to their namesake, The BBQ Gourmet.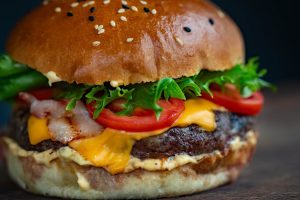 The BBQ Gourmet
Starting with appetizers, their menu boasts a variety of options cooked to perfection. From the classic BBQ Chicken Wings to the unique BBQ Stuffed Mushrooms, the flavors are sure to tantalize your taste buds. Each offering is a testament to the culinary skills of their chefs, who use their expertise to create appetizers that are both flavorful and appetizing.
The main course offers a diverse selection of meats, all cooked to perfection on the BBQ. The BBQ Gourmet's caterer menu is a meat lover's paradise. Prime cuts of beef, juicy chicken, and tender pork – you name it, they have it. Their Pulled Pork Sandwiches, Beef Brisket, and BBQ Chicken are crowd favorites, each possessing a unique flavor profile that is rich, smoky, and incredibly satisfying.
Yet, what sets The BBQ Gourmet apart is not just the quality of their food but also their attention to detail and commitment to providing a unique dining experience. Their offerings extend beyond the traditional BBQ fare with options for those who prefer a lighter, less meat-centric meal. Their Grilled Veggie Wrap or BBQ Tofu Steak are testament to their efforts in catering to diverse dietary preferences.
Caterer Menu
Let's not forget about the sides and desserts. No BBQ meal is complete without the quintessential sides, and The BBQ Gourmet doesn't disappoint. Their Mac and Cheese is creamy and cheesy, the Coleslaw is fresh and crunchy, and the Cornbread Muffins are soft and buttery. Finally, wrap up your meal with some sweet treats. From the classic Apple Pie to the decadent Chocolate Brownie, their dessert options are a fitting end to a hearty BBQ meal.
The BBQ Gourmet food truck caterer menu is more than just a list of food items; it's a culinary journey that takes you through the diverse flavors of BBQ. Their food is crafted with passion and precision, ensuring that every bite you take is filled with flavor. Whether it's a small family gathering, a big corporate event, or a fun outdoor party, The BBQ Gourmet food truck caterer can make it a memorable affair with their delectable offerings.
Food Truck BBQ
In the world of gourmet catering, The BBQ Gourmet food truck stands out with its focus on quality, taste, and customer satisfaction. Their menu reflects their commitment to provide an incredible dining experience, making them a top choice for food truck BBQ.
The next time you're in charge of organizing an event, consider The BBQ Gourmet food truck caterer. Not only will you be treating your guests to a gourmet BBQ meal, but you'll also be creating memories that will last a lifetime. From the first bite of their delicious appetizers to the last spoonful of their indulgent desserts, The BBQ Gourmet ensures an unforgettable culinary experience.
So, make your event stand out with The BBQ Gourmet food truck caterer menu. It's not just about the food; it's about the experience, the memories, and the joy of sharing a delicious meal. Experience the magic of BBQ gourmet catering with The BBQ Gourmet food truck caterer – an experience that is sure to delight, impress, and satisfy.