Event Catering Toronto
When it comes to Event Catering in Toronto, one name that consistently makes the top of the list is The BBQ Gourmet. With a reputation for delivering mouthwatering BBQ dishes and a seamless dining experience, they have firmly established themselves in Toronto's competitive catering industry. Whether you're planning an intimate gathering, a corporate event, or a grand wedding, The BBQ Gourmet promises a uniquely delicious experience that your guests won't soon forget.
The BBQ Gourmet, a premier name in Event Catering Toronto, prides itself on a unique approach to food. They forgo the traditional catering staples and instead, focus on what they do best – BBQ. This focus allows them to offer a wide range of succulent BBQ dishes, from smoky pulled pork to tender beef brisket, all cooked to perfection and served with their signature BBQ sauces.
One of the elements that set The BBQ Gourmet apart from other Toronto Catering Companies is their commitment to quality. They source the highest quality meats, prepared by skilled chefs who are passionate about BBQ. This ensures that every dish they serve is bursting with flavors that will tantalize your taste buds.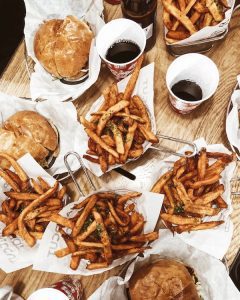 The BBQ Gourmet
However, The BBQ Gourmet's services extend beyond just food. They understand that successful event planning involves meticulous attention to detail. This is why they offer comprehensive Event Planning services to ensure that every aspect of your event is taken care of. From coordinating with other vendors to setting up the dining area, they manage all the details so you can focus on enjoying your event.
For corporate events, The BBQ Gourmet provides Corporate Catering services that cater to the unique needs of the corporate world. They know that in today's fast-paced business environment, time is a valuable commodity. They ensure quick setup and cleanup, allowing your team to get back to work as soon as possible. Their professional staff is trained to maintain a low profile during the event, ensuring minimal disruption to your business operations.
Corporate Catering
When it comes to Wedding Catering, The BBQ Gourmet understands that your wedding day is one of the most important days of your life. They strive to make it memorable with their mouth-watering BBQ dishes. Their wedding catering services are customizable to fit your needs, from the menu to the presentation, helping you to create the wedding of your dreams.
Customer satisfaction is at the heart of The BBQ Gourmet's services. They go above and beyond to ensure that all their clients are satisfied with their catering services. Their dedicated team works closely with you to understand your needs and preferences, helping them to create a custom menu that perfectly fits your event theme and dietary requirements.
BBQ Catering Services
The BBQ Gourmet's commitment to quality, combined with their unique approach to BBQ Catering, has earned them a loyal following in Toronto. Their long list of satisfied clients, from corporate giants to blissful newlyweds, is a testament to their exceptional catering services.
In conclusion, if you're looking for unforgettable Event Catering in Toronto that leaves your guests raving about the food long after the event is over, The BBQ Gourmet is the perfect choice. They deliver not just delicious BBQ dishes, but a complete dining experience that is sure to impress your guests. Experience the difference by choosing The BBQ Gourmet for your next event. Their delicious BBQ, impeccable service, and comprehensive event planning services make them the go-to choice for all your catering needs in Toronto.