Corporate Event Food Vendors
When planning a corporate event, food is one of the most important aspects to consider. A well-catered event can leave a lasting impression, while poor food choices can leave a sour taste in your guests' mouths. A corporate event food vendor that is increasingly popular and sure to impress is The BBQ Gourmet.
The BBQ Gourmet is not just a name; it stands for quality, taste, and commitment to providing the best BBQ dishes at your corporate event. With their unique catering services, they manage to stand out among other Corporate Event Food Vendors. Their expertise lies in creating mouth-watering BBQ dishes that will win over even the most discerning of guests.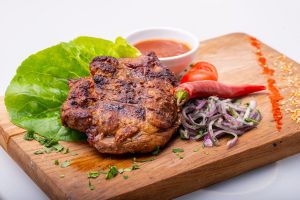 The BBQ Gourmet
The BBQ Gourmet is known for their wide array of BBQ specialties, including smoky ribs, succulent chicken, and seasoned steaks. Their menu offers a diverse set of options to cater to the varied tastes of your guests. Whether you want traditional BBQ dishes or desire an innovative twist to your event menu, The BBQ Gourmet got you covered.
But what sets The BBQ Gourmet apart in the crowded field of Corporate Event Food Vendors? The answer lies in their commitment to quality. They use the freshest ingredients, sourced from local farmers and suppliers. This commitment to quality doesn't stop at the ingredients, they also use top-of-the-line grilling equipment to ensure every dish is cooked to perfection.
The BBQ Gourmet also offers flexible catering options to fit the specific needs of your corporate event. Whether you're planning a small office party, a large conference, or an outdoor company retreat, their professional team is ready to provide customized solutions. Their dedicated event coordinators work in tandem with your event planning team to understand your requirements and deliver food that will not just meet but surpass your expectations.
BBQ Catering
Along with the exceptional food, The BBQ Gourmet understands the importance of presentation at corporate events. They ensure food is served in an elegant and appealing way to complement the professional atmosphere of the event.
One more aspect that makes The BBQ Gourmet shine among other corporate event food vendors is their excellent customer service. From the moment you contact them, you'll experience their friendly, attentive, and professional approach. They ensure every detail of your catering needs are taken care of, leaving you free to focus on other aspects of your event.
Corporate Events
Furthermore, The BBQ Gourmet is committed to making your corporate event a success while respecting your budget. They offer competitive pricing without compromising on quality, taste, or presentation. This gives you the peace of mind knowing you are providing your guests with top-notch food without straining your event budget.
In the world of catering, where many companies claim to be the best, The BBQ Gourmet has proven time and time again why they are among the top Corporate Event Food Vendors. Their blend of delicious food, innovative menu, commitment to quality, exceptional customer service, and reasonable pricing makes them a top choice for corporate event planners.
Event Planning
The BBQ Gourmet is not just about food; it's about creating an experience. They understand that food is the heart of any event and they are dedicated to ensuring that heart beats with the flavor and passion of exceptional BBQ. So, when planning your next corporate event, consider The BBQ Gourmet. Elevate your event with the aroma of BBQ, the taste of authenticity, and a service that is second to none.
In conclusion, picking the right corporate event food vendor is a crucial aspect of event planning. With The BBQ Gourmet, you can be confident of making a choice that will be remembered for all the right reasons. Make your next corporate event a delightful experience with The BBQ Gourmet!