Corporate Event Catering Services
Planning a corporate event can be daunting. From the venue to the guest list, every detail matters. But most essential is the food. It can make or break an event. That's where the expertise of Corporate Event Catering Services comes into play. One of those catering services that stand out from the crowd is The BBQ Gourmet. Offering delectable barbecue catering for corporate events, they are the key to turning your event into a memorable experience.
The BBQ Gourmet has established a firm reputation in the catering industry, known for their perfect blend of taste, presentation, and professionalism. Their gourmet catering services are tailored to meet the diverse culinary preferences of your corporate team. From sizzling meats to delightful vegetarian options, their exclusive corporate BBQ menu has something for everyone.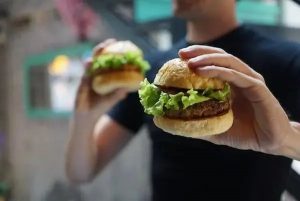 The BBQ Gourmet
The BBQ Gourmet's focus on quality starts with selecting the best ingredients. They pride themselves on using only the freshest, locally sourced produce and highest quality meats. Their unique style of slow-cooked barbecue is a treat for the senses. It's not only the taste but the aroma of barbecued food wafting through the air that enhances the ambiance of your corporate event.
Working with the BBQ Gourmet's team is a seamless experience. Right from your initial consultation to the day of your event, their team works closely with you. They understand the dynamics of corporate event catering and provide services that perfectly fit your event theme, budget, and dietary restrictions. Their goal is to exceed every expectation you set, ensuring a successful and memorable event.
The BBQ Gourmet also recognizes the importance of presentation. As the saying goes, we eat with our eyes first. Their barbecue catering for corporate events is always served in a manner that appeals to your guests' aesthetic taste. The food is artfully arranged, creating a visual feast that matches the culinary one.
Barbecue Catering for Corporate Events
Another notable aspect of BBQ Gourmet's corporate event catering services is their commitment to sustainability. They strive to minimize their environmental footprint in every possible way, from reducing waste to using biodegradable serving materials.
But what sets The BBQ Gourmet apart from the competition? Their dedication to customer satisfaction. They appreciate the value of your corporate events and understand that they're about more than just good food. They're about building relationships, boosting morale, and demonstrating appreciation. The BBQ Gourmet does more than just cater to your event; they contribute to your corporate culture.
Event Catering Services
Moreover, their menu's versatility is another significant aspect. Want a traditional barbecue with ribs, chicken, and brisket? They've got you covered. Looking for something a little different, like BBQ-themed appetizers or international barbecue styles? They can do that too. They also offer a variety of sides, desserts, and beverage options to complete your corporate BBQ menu.
Corporate event catering is a significant aspect of any corporate event. It requires careful planning, and that's where The BBQ Gourmet's services come in handy. They are dedicated to ensuring that your corporate event reflects only the highest standards of quality and professionalism.
Corporate BBQ Menu
In conclusion, The BBQ Gourmet is not just about barbecuing. Their corporate event catering services encapsulate the essence of what a gourmet experience should be. Whether you're planning an intimate team lunch or a large corporate event, The BBQ Gourmet is equipped to handle your needs with ease, grace, and of course, excellent food.
When you choose The BBQ Gourmet for your corporate event catering needs, you're not merely choosing a caterer. You're choosing an experience – an experience that your team will remember long after the event is over. So go ahead, let The BBQ Gourmet take your corporate event to the next level with their exceptional catering services. After all, every corporate event deserves a touch of gourmet.