Corporate Catering Services
When planning a corporate event, the significance of food and catering cannot be overstated. It's all about the fine balancing act of creating a memorable event while making a lasting impression. That's where The BBQ Gourmet comes into the picture, revolutionizing the concept of Corporate Catering Services with an innovative, mouth-watering spin.
The BBQ Gourmet is renowned for delivering top-notch corporate catering services that infuse your event with exceptional flavours and unrivalled service. With a focus on BBQ Catering, we aim to transport your guests on a culinary journey, an adventure that transcends the conventional corporate event catering norms.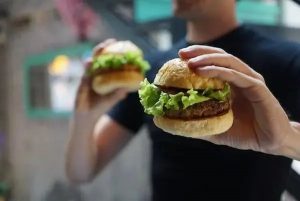 The BBQ Gourmet
As an industry leader in BBQ catering, The BBQ Gourmet redefines the experience by transforming ordinary corporate events into extraordinary gastronomic affairs. Our offerings go beyond traditional catering services, ensuring that your event stands out for all the right reasons.
Our BBQ gourmet menu is a feast that delights the senses, a tantalizing array of dishes that cater to every palette. From smoky, slow-cooked meats to fresh, vibrant salads, to decadent desserts, we offer a complete dining experience, ensuring your corporate event is unforgettable. We understand that corporate events require a level of professionalism and sophistication, and our offerings reflect this understanding.
But the gourmet experience isn't just about food. The BBQ Gourmet understands that exceptional service is just as important. Our experienced team will work closely with you to meet your specific needs, ensuring that your event runs smoothly. We handle everything from setup to cleanup, ensuring that you can focus on what's truly important – your guests and the event itself.
Corporate Events
In addition to offering exceptional food and service, The BBQ Gourmet is committed to sustainability. We use locally sourced ingredients whenever possible, supporting local farmers and contributing to the local economy. Additionally, we make every effort to minimize waste, using eco-friendly packaging and utensils.
Choosing The BBQ Gourmet for your corporate catering services means you're not just providing delicious food for your guests. You're also making a statement about your company's dedication to quality, sustainability, and exceptional service. It's a choice that speaks volumes about your company's values and commitment to excellence.
Event Catering
When planning your next corporate event, remember that the food you serve is more than just a meal – it's an experience. With The BBQ Gourmet, you can ensure that your guests will remember your event for the right reasons. So why not elevate your next corporate event with our gourmet BBQ catering services? We promise to deliver an experience that your guests won't soon forget.
In conclusion, The BBQ Gourmet stands tall as a paradigm of corporate catering services, embodying a unique blend of gourmet cuisine, exceptional service, and a commitment to sustainability. Our BBQ catering services offer a unique spin on corporate event catering, ensuring that your event is memorable, enjoyable, and above all, delicious. Choose The BBQ Gourmet for your corporate event catering needs, and let us deliver an unforgettable culinary experience.
BBQ Catering
Remember, when it comes to corporate catering services, only the best will do – and that's The BBQ Gourmet. Make your next corporate event a gastronomic delight with The BBQ Gourmet, where quality, service, and sustainability are at the forefront.
Let us transform your corporate event into an extraordinary culinary journey – choose The BBQ Gourmet for your Corporate Catering Services. Experience the difference that gourmet BBQ catering can make – because at The BBQ Gourmet, we believe that exceptional food and exceptional service go hand in hand.