Event Catering Toronto
When it comes to corporate catering in Toronto, nothing quite hits the spot like a tantalizing barbeque spread. The mouth-watering aroma of sizzling meats, combined with the unique smoky flavor, can transform any mundane corporate event into a gastronomic celebration. This is where The BBQ Gourmet comes into the picture, as Toronto's premier BBQ caterer, offering a delightful range of barbeque menus that are sure to enthral your guests and elevate your event.
Event Catering
Corporate catering is a crucial aspect of any business event, be it a small meeting, a large conference, or an annual gala. It sets the tone for the event and plays a significant role in ensuring the satisfaction of the attendees. Therefore, it's crucial to choose a caterer who not only provides high-quality food but also understands the nuances of corporate events. This is where Corporate Catering Toronto with The BBQ Gourmet shines.
The BBQ Gourmet, with its focus on BBQ Catering, offers a unique twist to the traditional corporate catering scene in Toronto. Their delicious, high-quality BBQ menu, combined with their attention to detail and commitment to customer satisfaction, makes them a sought-after choice for corporate event catering.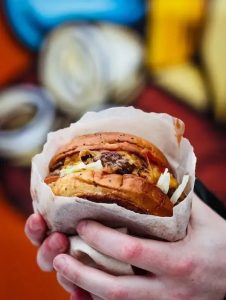 The BBQ Gourmet
Their BBQ menu is a delight for all meat-lovers. It includes a range of options like succulent ribs, juicy steaks, tender pulled pork, and smoky chicken. However, their offerings are not limited to carnivores alone. They also provide a range of vegetarian and vegan options, ensuring a delicious BBQ experience for all guests. The BBQ Gourmet takes pride in using only the freshest ingredients, locally sourced, and cooked to perfection, ensuring every bite is a flavor explosion.
However, what sets The BBQ Gourmet apart is their dedication towards providing a memorable event catering experience. They understand that corporate catering is more than just about food. It involves meticulous planning, timely execution, and exceptional service. Their experienced team works closely with clients, understanding their specific requirements and offering customized solutions to ensure a seamless catering experience.
Moreover, they also provide complete event management services, including décor, entertainment, and event planning, making them a one-stop solution for all corporate catering needs in Toronto.
In the competitive world of corporate catering, The BBQ Gourmet has carved a niche for itself with its unique BBQ offerings and commitment towards providing an unmatched catering service. Their impressive clientele, which includes many top corporations in Toronto, stands testament to their exceptional catering services.
In conclusion, if you are looking for Corporate Catering in Toronto that is out-of-the-ordinary, it's time to explore The BBQ Gourmet. With their unrivalled BBQ menu and seasoned catering team, they promise to add a flavorful touch to your corporate event, leaving your guests delighted and impressed.
BBQ Catering
For more information on their services and menu, visit The BBQ Gourmet's website . Also, check out this insightful article on BBQ trends in corporate catering to know what's hot in the BBQ world .
So, for your next corporate event, step away from the usual and explore the tantalizing world of BBQ with The BBQ Gourmet. Because when it comes to Corporate Catering in Toronto, nothing comes close to the smoky delight of a well-cooked BBQ.