Corporate Breakfast Catering Toronto
In the fast-paced business environment of Toronto, starting your day with a nourishing and scrumptious breakfast becomes paramount. When it comes to corporate breakfast catering in Toronto, the name that instantly strikes is The BBQ Gourmet. Their professional services, diverse menu, and exceptional food quality make them an ideal choice for businesses looking for reliable breakfast catering services.
The BBQ Gourmet has carved a niche for itself in the realm of catering services in Toronto. Their dedication to providing top-tier services, combined with a broad spectrum of breakfast menu options, sets them apart from others in the industry. They have made a significant impact in the corporate sector by understanding the specific needs of businesses and tailoring their services to meet those needs.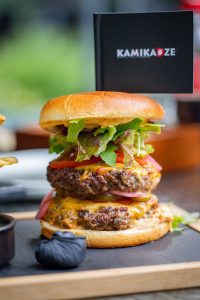 The BBQ Gourmet
Their corporate breakfast catering services are highly sought after in Toronto, owing to their punctuality, proficiency, and the quality of their offerings. Whether it's a corporate meeting, a business event, or a regular office day, The BBQ Gourmet ensures that your breakfast needs are taken care of, allowing you to focus on your core business tasks without any worries.
The BBQ Gourmet offers a wide array of breakfast menu options, ensuring that there's something for everyone. From classic breakfast items like scrambled eggs, bacon, and bagels to more gourmet offerings like smoked salmon and roasted vegetable frittatas, their menu is sure to impress even the most discerning palates. Healthy options like fresh fruits, granola, and yogurt are also available for those who prefer a lighter start to their day.
Catering Services
One of the key features of The BBQ Gourmet's corporate breakfast catering service in Toronto is the attention to detail. Every dish is prepared with care, ensuring that it not only tastes good but also looks appetizing. The use of fresh, high-quality ingredients further enhances the taste and nutritional value of the food.
Another factor that makes The BBQ Gourmet a popular choice for corporate breakfast catering in Toronto is their flexible service. They understand that every business has unique needs and schedules, and they strive to accommodate these by offering customizable catering packages. Whether you want breakfast delivered daily to your office, or you need catering for a one-off event, they can tailor their services to suit your needs.
Reliable Catering Service
In addition to their impressive food offerings, The BBQ Gourmet also stands out for its customer service. From your initial consultation to the moment the last plate is cleared away, their team is professional, attentive, and dedicated to making your corporate breakfast catering experience as smooth and enjoyable as possible.
The BBQ Gourmet's corporate breakfast catering services in Toronto are not only designed to provide your team with a delicious start to the day but also to create a positive impact on their productivity. Studies have shown that having a nutritious breakfast can boost cognitive function and energy levels, ensuring that your team is ready to tackle the day ahead.
Breakfast Menu Options
In conclusion, when it comes to corporate breakfast catering in Toronto, The BBQ Gourmet stands out for its quality, reliability, and customer-focused approach. Whether you're planning an early morning meeting, a full-day conference, or simply want to treat your team to a delicious breakfast, The BBQ Gourmet offers a service that is both impressive and hassle-free. Let them take care of your breakfast catering needs, and experience the difference that a professionally catered breakfast can make to your business day.
So, don't wait! Reach out to The BBQ Gourmet today and let them elevate your corporate breakfast experience in Toronto. With their exceptional catering services, you can ensure that your team starts their day on a high note, ready to meet the demands of the busy corporate world.