Business Lunch Food Truck Caterer
Hosting business lunches is an integral part of many companies' corporate cultures. It provides an opportunity to network, foster relationships, and discuss crucial business matters in a less formal setting. The food at these events plays a significant role in setting the right ambiance and leaving a lasting impression on your guests. This is where The BBQ Gourmet Food Truck Caterer comes into the picture, offering a unique and delicious catering solution for your business lunches.
The BBQ Gourmet is a food truck caterer that brings a unique blend of traditional barbecue cuisine and modern culinary excellence to your events. Their mission is to offer a memorable dining experience that goes beyond the ordinary, thus making your business lunch stand out.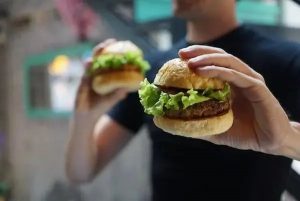 The BBQ Gourmet
Imagine serving your business associates with succulent slow-cooked meats, grilled veggies, and other BBQ specialties. Each dish is prepared with the utmost care and presented in a way that reflects the professionalism of your event. With the BBQ Gourmet, your business lunch experience is taken to a whole new level.
One of the advantages of hiring a food truck caterer like The BBQ Gourmet for your business lunch is the flexibility it offers. The truck can be parked conveniently at your chosen location, be it your office parking lot or another outdoor venue. This means you don't have to worry about logistics or transport of food, as everything is prepared and served on-site.
Another advantage of food truck catering is the variety of menu options available. The BBQ Gourmet offers a wide range of dishes to cater to different tastes and dietary preferences. From classic BBQ ribs and pulled pork to vegetarian options like grilled vegetables and salads, there's something for everyone on their menu. This ensures that all your guests, regardless of their dietary restrictions or preferences, can enjoy the food.
Food Truck Caterer
The BBQ Gourmet is also known for its exceptional service. Their team of trained professionals ensures that your event runs smoothly from start to finish. They take care of everything from setup to serving to clean-up, so you can focus on networking and enjoying the event with your guests.
When it comes to cost, food truck catering can often be a more economical choice compared to traditional catering. You only pay for the food that is prepared and served, with no additional fees for location or equipment rental. This makes The BBQ Gourmet a viable option for businesses of all sizes, even those with a limited budget for events.
Aside from business lunches, The BBQ Gourmet also caters for other corporate events such as company picnics, team building activities, and client appreciation events. They can customize their menu and services to suit the unique requirements of your event, making them a versatile choice for all your corporate catering needs.
Business Lunch
In conclusion, choosing The BBQ Gourmet Food Truck Caterer for your business lunch offers numerous benefits. It provides a unique and memorable dining experience, offers flexibility in terms of location and menu options, ensures professional service, and can be a cost-effective catering solution. With their delicious BBQ cuisine and exceptional service, The BBQ Gourmet will ensure your business lunch is a resounding success.
So, the next time you're tasked with organizing a business lunch, do consider The BBQ Gourmet Food Truck Caterer. It's an innovative and fun way to impress your guests and make your event one to remember.