Business Lunch Catering
When it comes to Business Lunch Catering in Toronto, there's no better choice than the renowned The BBQ Gourmet. As a premier Caterer in Toronto, we specialize in mouth-watering BBQ fare that will elevate your corporate gatherings to a whole new level. Our commitment to quality, flavor, and exceptional service has made us the go-to option for Corporate Catering and Event Catering in the city, offering an unmatched gourmet experience.
As professionals in the catering sector with more than 30 years of experience, we understand the intricacies of planning and providing for business lunches. We know that these events are not merely about good food; they are also about creating the right impression. Whether you're hosting potential clients, celebrating a team success, or conducting a casual Friday lunch team building, The BBQ Gourmet's business lunch catering is designed to impress.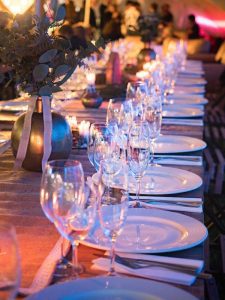 The BBQ Gourmet
Our BBQ Catering menu is meticulously crafted, with an array of options that cater to all kinds of dietary preferences. From succulent meats slow-cooked to perfection and delightful vegetarian dishes to our irresistible range of sides and desserts, there's something for everyone to enjoy. Imagine the tangy, smoky aroma of BBQ filling your conference room or business courtyard, paving the way for a relaxed yet productive atmosphere.
At The BBQ Gourmet, Gourmet Catering is not just about the food but also the presentation. We present our menu items in a way that complements your professional setting, ensuring each dish is as visually appealing as it is delicious. Our team handles everything from setup to clean-up, allowing you to focus on your guests and business discussions. We bring the BBQ Lunch to you, wherever you are in the Greater Toronto Area, ensuring punctuality and efficient service.
Quality and freshness are at the heart of our Business Lunch Catering services in Toronto. We prioritize locally sourced ingredients and prepare all our dishes from scratch on the day of your event. Our culinary team is committed to delivering a high-quality BBQ experience that underlines your corporate event's importance.
Corporate Catering
But The BBQ Gourmet's services extend beyond just providing food. We are here to make your event flawless and memorable. From assisting with planning the menu to coordinating logistics and providing professional wait staff, we ensure every aspect of your corporate event is managed seamlessly. Our dedicated event planners work closely with you to understand your specific needs and preferences, ensuring every detail is taken care of.
Whether you're catering for a small team meeting or a large corporate event, The BBQ Gourmet is flexible and adaptable to cater to all event sizes. Our vast experience in the field allows us to handle any crowd size efficiently, ensuring everyone is well-fed and satisfied.
Catering Services
Trust The BBQ Gourmet for all your Business Lunch Catering needs in Toronto. We not only promise a sublime BBQ experience but also a seamless, stress-free event that leaves a lasting impression on your guests. Contact us today to discuss your corporate catering needs and discover the outstanding difference of The BBQ Gourmet.
In conclusion, when it comes to Business Lunch Catering in Toronto, The BBQ Gourmet stands out with its dedication to quality, taste, and service. Our exceptional BBQ menu, commitment to fresh ingredients, and attention to detail make us the top choice for businesses seeking a memorable and enjoyable corporate event. Experience the difference with The BBQ Gourmet – where every business lunch is turned into a gourmet feast.