BBQ Catering Packages Toronto
In the heart of Toronto, where diverse gastronomy thrives, BBQ Gourmet holds its grounds offering some of the best BBQ Catering Packages Toronto has to offer. With a unique blend of taste, quality and convenience, it has managed to carve a niche for itself in the realm of BBQ catering services.
The BBQ Gourmet has been serving up mouth-watering BBQ offerings to the people of Toronto for over 30 years. They specialize in corporate BBQ catering, but their bespoke services cater to all types of events, including private parties, weddings, and outdoor BBQ catering for festivals.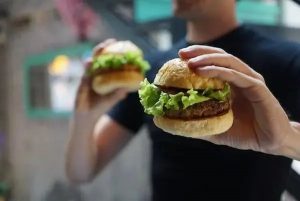 The BBQ Gourmet
The secret to the BBQ Gourmet's unrivalled success lies in their BBQ Catering Packages Toronto. Each package is uniquely designed to cater to different customer needs and budgets, ensuring that everyone gets to experience the magic of their delicious BBQ.
The BBQ Gourmet offers a range of BBQ Catering Packages Toronto. From budget-friendly options perfect for small gatherings to extravagant packages suitable for large-scale corporate events, there's something for everyone. Each package includes a selection of succulent meats, delicious sides, essential condiments, and even vegetarian options.
Their popular "The Classic" package, for instance, allows you to choose two types of meats, two salads, and two sides. The meat options include juicy, slow-cooked pork ribs, marinated chicken breasts, and their signature BBQ cheeseburgers. The sides range from corn on the cob and coleslaw to baked beans and potato salad.
Corporate BBQ Catering
If you're planning an upscale event, the "Gourmet Deluxe" package might be the right fit. It allows you to choose three types of meats, three salads, and three sides. Some of the gourmet meat options include smoked brisket, lamb chops, and salmon fillet. For sides, you can opt for something a little more sophisticated, like roasted root vegetables or Mediterranean pasta salad.
One of the standout features of these BBQ Catering Packages Toronto is that they all include setup, cleanup, and service. The BBQ Gourmet takes care of everything from start to finish, leaving you free to enjoy the event without worrying about the details.
All their packages also include eco-friendly disposable plates, cutlery, and napkins, so you don't have to worry about the environment while enjoying your BBQ.
Outdoor BBQ Catering
Moreover, the BBQ Gourmet doesn't just offer great food; they provide a complete BBQ experience. Their professional staff are well-trained in food safety and customer service, and their pitmasters have years of experience grilling and smoking meats to perfection.
Their dedication to providing quality BBQ and stellar service has made them a top choice for BBQ Catering Packages Toronto. So, whether you're planning a corporate event or a backyard BBQ with friends, the BBQ Gourmet has a package to suit your needs.
In conclusion, if you're in Toronto and searching for the best BBQ catering service, look no further than BBQ Gourmet. Their diverse BBQ Catering Packages Toronto, coupled with their commitment to quality and customer satisfaction, make them the ideal choice for any event.
BBQ Catering Services
Enjoy the mouthwatering flavours of BBQ cooked to perfection, and experience the convenience and delight of their catering services. With BBQ Gourmet, your event is sure to be a hit. Make your booking today and let them bring the BBQ experience to you.
Enjoy the succulent flavours, sizzling grills, and the unique BBQ experience only with BBQ Gourmet, the top choice for BBQ Catering Packages in Toronto!
Remember, good food is the cornerstone of any successful event, and with BBQ Gourmet's Catering Packages, you're guaranteed not just good, but exceptional BBQ that leaves a lasting impression on your guests.