BBQ Gourmet Food Truck
Calling all barbecue enthusiasts! If you're searching for "BBQ Gourmet Food Truck Catering Near Me," your search ends here. Known for its mouth-watering smoky flavor and tender, juicy meats, the BBQ Gourmet Food Truck brings an authentic, barbeque-style culinary experience right to your doorstep.
Imagine being able to host an event where the smell of hickory-smoked meats wafts through the air. Picture your friends and family, gathered around, enjoying succulent ribs, smoky pulled pork, or tender, slow-cooked brisket. With BBQ Gourmet Food Truck Catering, this delicious scene can be your reality. We provide a unique dining experience that combines the casual, relaxed vibe of a food truck with the joys of gourmet BBQ cuisine.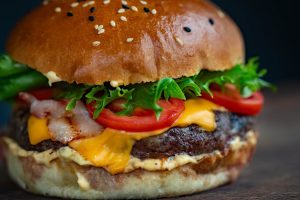 The BBQ Gourmet
The BBQ Gourmet Food Truck is a full-service mobile catering unit. We travel to your location, eliminating the hassle of transporting food, setting up, and cleaning up. Our skilled chefs cook on-site, ensuring that your guests receive the freshest, most delicious BBQ possible.
Selecting a caterer for your event is a critical decision. You want to ensure that your guests enjoy a memorable dining experience. When you choose BBQ Gourmet Food Truck catering, you can expect top-notch service and quality.
Here's what sets us apart:
Authentic BBQ Flavors: Our BBQ is cooked low and slow in a traditional smoke pit. We use a blend of woods to impart a unique, smoky flavor that you can't find anywhere else.
Fresh, Quality Ingredients: We believe in using only the best ingredients. Our meats are sourced from trusted local farmers, ensuring the highest quality.
Customizable Menu: We offer an array of BBQ dishes, sides, and desserts. Whether you have a taste for savory pork ribs, tangy coleslaw, or sweet apple pie, we've got you covered. Plus, we can cater to dietary needs and preferences.
Professional Service: Our staff is passionate about serving you. We'll work with you throughout the planning process to ensure your event is a success.
Affordable Pricing: We believe that enjoying gourmet BBQ shouldn't break the bank. We offer competitive pricing for all our services.
Food Truck Catering
If you're planning an event in your area, why not consider BBQ catering? It's an excellent option for a variety of occasions, from backyard parties and corporate events to weddings and family reunions.
Mobile BBQ catering is a convenient and fun way to feed your guests. And when you choose BBQ Gourmet Food Truck, you're getting much more than just good food. You're getting an experience that your guests will remember long after the last bite of brisket has been savored.
So, the next time you find yourself searching for "BBQ Gourmet Food Truck Catering Near Me," remember that we're just a call or click away. Let us bring the smoky, savory, and absolutely delicious world of BBQ right to your doorstep.
BBQ Catering Near Me
Barbeque is more than just a type of cuisine – it's a culinary experience that brings people together. And there's no better way to share this experience with your loved ones than with the BBQ Gourmet Food Truck.
So, go ahead and make your next event unforgettable with a feast of smoky flavors. Whether you're hosting a small gathering or a large event, we're ready to cater to your needs. Reach out to us today and let's start planning your perfect BBQ feast.