Affordable BBQ Catering
If you're planning a gathering in Toronto, you might be looking for a way to serve up some delicious food without breaking the bank. Well, look no further because Affordable BBQ Catering in Toronto doesn't get any better than The BBQ Gourmet!
Toronto is a bustling city filled with food lovers, and nothing brings people together like a good old-fashioned barbecue. However, the challenges of organizing a BBQ, especially for a large crowd, can be daunting. There's the marinating, grilling, smoking, not to mention the time and effort it takes to prepare a variety of sides. But with our BBQ catering services, you can enjoy the party without the hassle of cooking.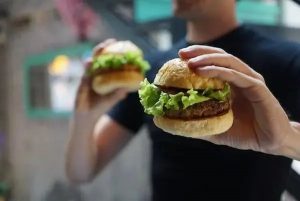 The BBQ Gourmet
The BBQ Gourmet is your premier choice for affordable BBQ catering in Toronto. Our team specializes in creating mouth-watering, smoke-infused barbecued meats complemented with a range of tasty sides. We pride ourselves on delivering not only great food but a memorable culinary experience for your guests.
When you choose The BBQ Gourmet, you're choosing a service that values quality and affordability. We understand the need for cost-effective solutions without compromising on taste and quality. Our BBQ catering services are tailored to suit different budgets, making us the go-to choice for affordable BBQ catering in Toronto.
Our menu is diverse and customizable, with options for everyone, including vegetarian and gluten-free choices. From slow-smoked ribs and pulled pork to grilled vegetables and gourmet salads, we ensure every guest's palate is catered for. We source the freshest ingredients, use signature sauces and rubs, and slow-cook our meats to perfection, resulting in flavours that are bold and satisfying.
BBQ Catering Toronto
What sets The BBQ Gourmet apart is our commitment to exceptional service. Our professional team handles all the details from setup to cleanup, allowing you to focus on enjoying the event. Whether it's a wedding, corporate event, or backyard party, you can trust us to deliver a seamless barbecue catering experience.
We understand that every event is unique and requires personalized attention. That's why our team works closely with you to understand your needs and preferences. We help plan the menu, set up the BBQ, and ensure the food is served hot and fresh. Our staff is trained to handle both small intimate gatherings and large-scale events with the same level of professionalism and care.
The BBQ Gourmet is more than just a BBQ catering service in Toronto. We are passionate about what we do, and it shows in the food we serve and the service we provide. Our goal is to exceed your expectations and turn your gathering into an unforgettable BBQ feast.
Barbecue Catering Services
In conclusion, if you're looking for quality, affordability, and excellent service, The BBQ Gourmet is the answer. We are the top choice for BBQ catering in Toronto, dedicated to making your event a culinary success. With us, you don't just get great food; you get an experience that will leave your guests talking long after the party has ended.
So, whether you're planning a company picnic, a family reunion, or a friendly neighborhood cookout, remember, nothing says summer in Toronto quite like a BBQ, and there's no better option for affordable BBQ catering than The BBQ Gourmet. Get in touch with us today and let us make your event the talk of the town!
Enjoy the true taste of an authentic barbecue without the hassle. Let The BBQ Gourmet transform your event with our affordable, mouth-watering BBQ catering services in Toronto. No matter the size or type of your event, we promise to deliver a barbecue experience that your guests will remember and enjoy.
Discover the vibrant flavors of BBQ with The BBQ Gourmet – your number one choice for affordable BBQ catering in Toronto. Let's fire up the grill together!